Captain David Stirling Ex.C  FNI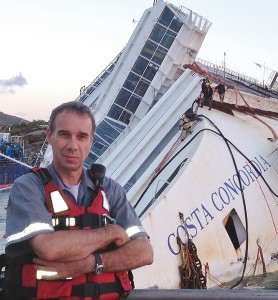 Capt. Stirling went to sea in 1975, working initially on a wide variety of ship types and has specialised in marine salvage, ocean towage and wreck removal since 1979.
He qualified as Master Mariner in 1985 and earned his first command in early 1986.
He became Salvage Master in 1986 during the Iran-Iraq "Tanker War" where, with operational control of a fleet of salvage vessels, was instrumental in the successful conclusion of numerous difficult and dangerous operations, often under hostile conditions.
He has served on the world's most powerful salvage tugs and been involved in a wide range of marine operations, which include ocean towage, heavy lifts, platform load-outs, rig shifts and specialised marine transportation projects.
In 1994, he was awarded the prestigious Extra Masters Certificate following an intensive 1 year course at Glasgow Nautical College and is believed to be the youngest person to have achieved this qualification.
He joined Titan Maritime in 1995 as Area Director (Europe) and became Senior Salvage Master, responsible for the successful conclusion of numerous high profile and challenging projects, including the "APL Panama" which remains the largest ever LOF salvage award. His efforts helped establish Titan's reputation as one of the most respected and innovative salvage companies in the world.
In 2007, Captain Stirling established Stirling Salvage to provide independent and practical advice based on his extensive hands-on experience, to P&I Clubs, H&M Underwriters, Salvors, Ship Owners, Government, Harbour Authorities, NGOs and Maritime Lawyers, on towage, salvage and wreck removal matters.
He was engaged as Consultant during the parbuckling and as Salvage Master during the refloating of the "Costa Concordia", the largest and most costly ever wreck removal project.
He represented Hull and Machinery interests during the "Rena" grounding in New Zealand which was the largest ever SCOPIC operation. He provides salvage-related advice to the Secretary of States Representative (SOSREP) during major incidents in the UK.
Capt. Stirling has been appointed to Lloyds SCR Panel, elected as a Fellow of the Nautical Institute and is a Freeman of the Honourable Company of Master Mariners.
His experience and qualifications in this specialised and unique industry is unrivalled.